Watercolor is a versatile painting medium for a wide range of expression from representational paintings to loose and fluid abstracts. This bundle of courses was created for you, the first-time watercolor artist, maybe you haven't picked-up a brush in a few years or you are looking for a few tips. Join Dale L Popovich IWS as he walks you through what it takes to create a powerful watercolor all in the comfort of your own studio.
All three courses are landscapes. Dale tells his studio students to start with landscapes, because nature is forgiving and an excellent learning tool. If your placement of a branch on a tree and it is a little off most likely no one will notice. But if you are painting a portrait and don't get the proportions spot on well, you will have a less than desirable result. Adding to the mix you are learning a new medium – working with wet-on-wet and dry-on-wet techniques, handling your brushes and learning timing. Portraits, animals and flowers will come in due time. Painting landscapes helps quickly build your confidence.
All three courses include:
• Materials in PDF and JPG format
• Popovich's personal Material List
• Photo Reference
•Video Lessons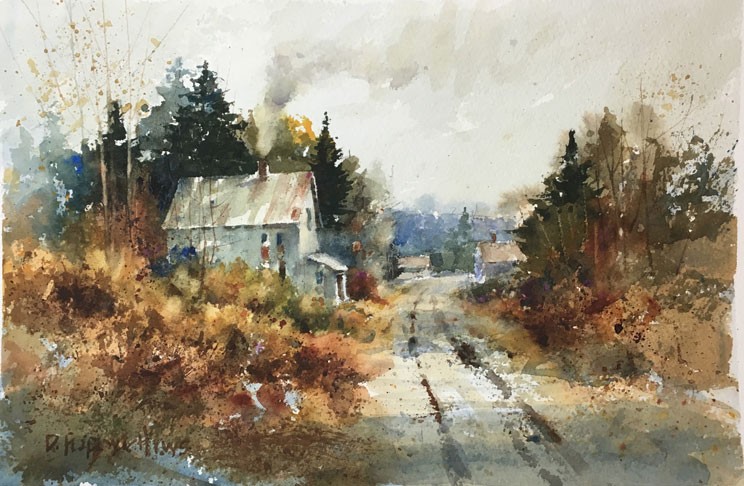 Learn the Basic Principles of Watercolor
Dale walks through the essential information regarding brushes, paints, papers, and additional supplies. From there he will take you through the three phases of painting a watercolor as a Paint-Along. You will watch the video and then recreate what he did on the video. This subject is a rural autumn scene in Upper Peninsula of Michigan. We recommend you start with this course.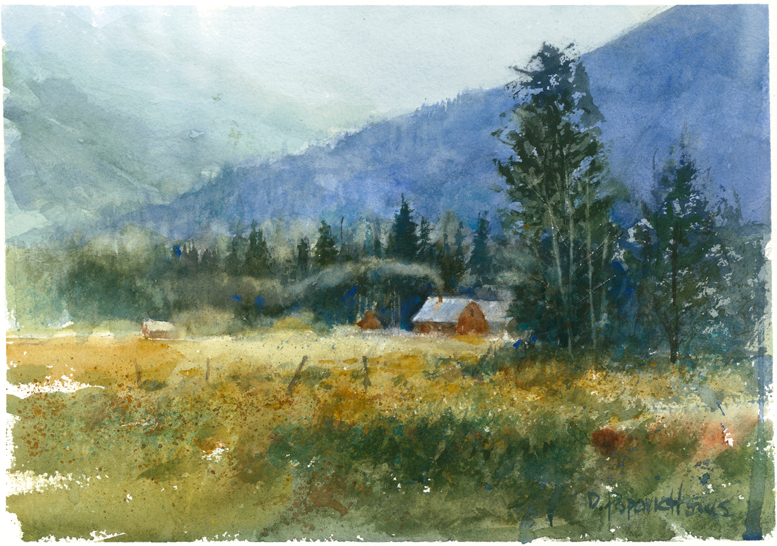 Learn How to Paint in Watercolor – An Alaskan Farmstead Landscape Paint-Along
As in all Dale's courses he will have you start to think about your painting before you apply a single brush stroke. Throughout this course he will share his personal Artist's Notes. He will discuss The Four Basic Principles of Painting which is key for a successful watercolor painting. This course is done as a Paint-Along. He will introduction you to aerial perspective – making objects and background recede and foreground come forward. Learn how to lay down rich, intense fluid colors and techniques in blending, lifting and glazing colors. Finally, Dale will share how to create special effects without using your brush.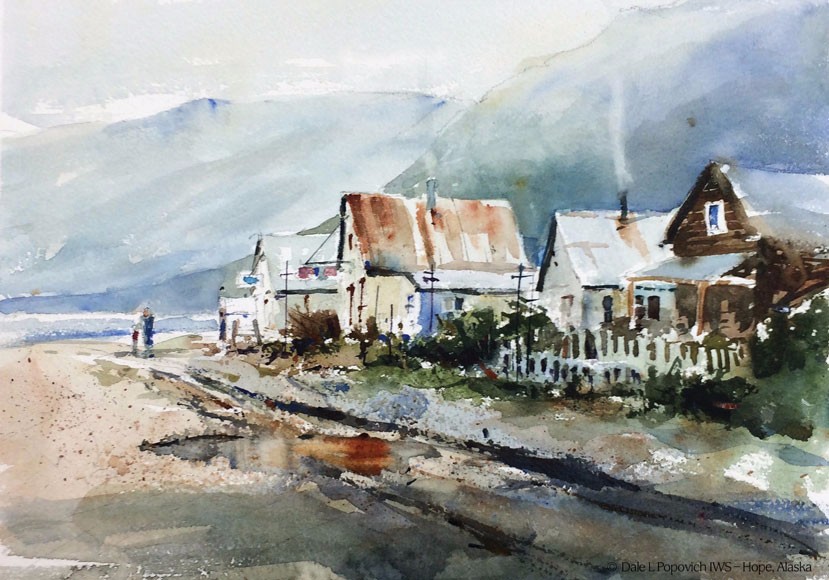 I-Hour Limited Color Watercolor Demo: Hope, Alaska Landscape
Dale gives an insight into the watercolor techniques that creates a successful paintings and along with focusing on the use of transparent watercolors in a landscape scene.
Dale discusses how to start a painting, limited color palette, where you can simplify, and take liberties, and much, much more. He will share his watercolor painting tips & techniques, explaining how to gain real control in wet-in-wet and dry-on-dry blending and not overworking your painting.
Dale will help you to get to know your watercolors and give you the confidence to paint impressive work in this wonderful medium all in the comfort of your own studio.
All three courses have a Comments Area at the bottom of each lesson so you can post your watercolor questions and we also offer a private Facebook page.