In this
Master's Series
I will share with you why watercolor is a versatile painting medium for a wide range of expression from representational paintings to loose and fluid abstracts. This course was created for you, the first-time watercolor artist, maybe you haven't picked-up a brush in a few years or you are looking for a few tips. Join me as I walk you through what it takes to create a powerful watercolor all
in the comfort of your own studio
.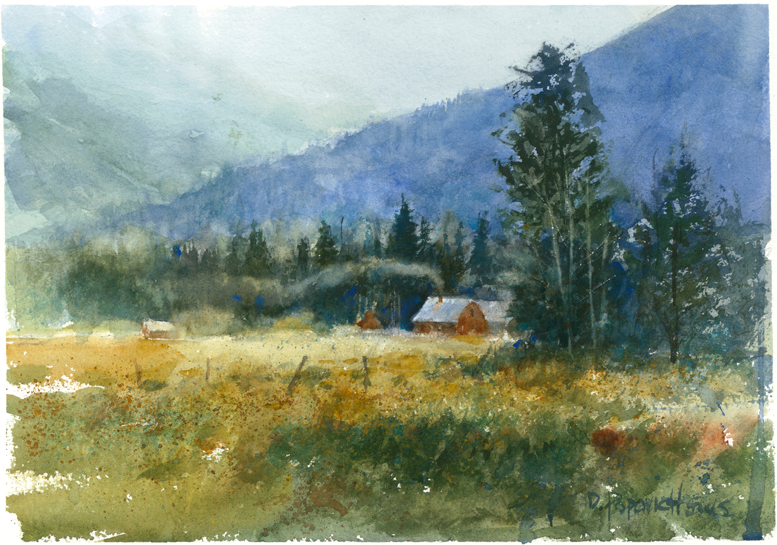 This course can be done as a Paint-Along. You will learn:
As in all my courses I will have you start to think about your painting before you apply a single brush stroke
Throughout this course I will share my personal artists notes with you
Composition choices in a value study
Nearly 90 minutes of step-by-step video instruction
The four basic principles of painting
Introduction to aerial perspective. Making objects and background recede and foreground come forward.
Learn how to lay down rich, intense fluid colors
Techniques in blending, lifting and glazing colors
Learn how to get the best results
Create special effects without using your brush!
Course includes:
Popovich's Artist's Notes includes the value study and color study exercises
Dale's Pencil Sketch on Watercolor
Popovich's Personal Supply List for this painting
Printable Photo Reference 
Printable Value Studies and Color Study
5 Paint-Along demonstration video lessons (almost 90 minutes)
Giclee print of the final painting (Added cost - shipping and handling included - two weeks for delivery)
Video Lessons:
- If You are New to Watercolor You Should Watch These Videos (39:43 minutes – four videos)
- STEP #1: The Block-In (7:46 minutes)
- STEP # 2: Establishing Secondary Masses (18:48 minutes - two videos)
- STEP # 3: Final Details including signing my painting (19:58 minutes - two videos)
- How do I Know if I'm Done? Step back, take a deep breath, and add a few well placed details (3:38 minutes)
AND
Comments area to post your watercolor questions
PLUS we are offering the finished painting as an archival gIclee print at an additional charge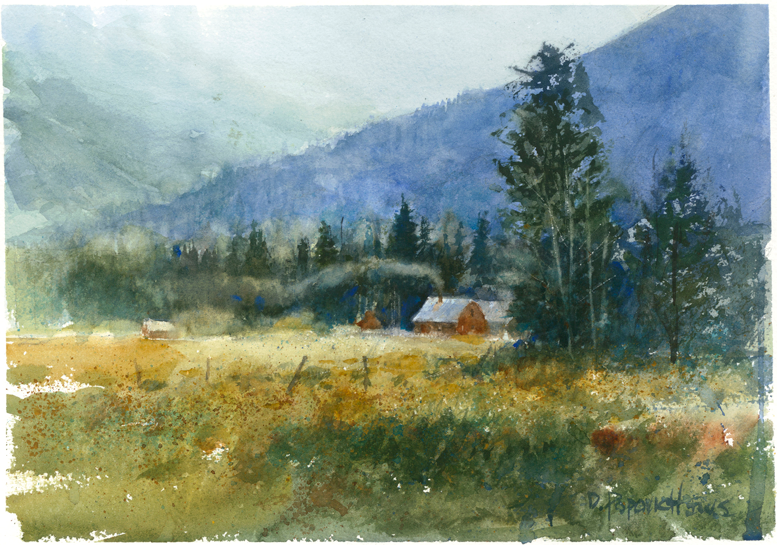 I personally find I get great inspiration looking and studying another artist's work. Well, I'm offering a high quality glisee print for you to enjoy and study. I get my work scanned and printed at one best studios in the USA, OsioBrown.com.

Osio-Brown Editions is a fine art giclee printing company specializing in museum quality giclee printing for Chicago area artists and art galleries. Their gallery and studio space in Elmhurst, Illinois (just minutes from downtown Chicago) is designed to be the most comfortable and efficient giclee printing studio in the Chicago area. Their combination of high resolution scan technology, giclee printing expertise and a knowledgeable staff insure that my final giclee prints will far exceed your initial expectations. And it does!.
What Is A Giclee Print?
Giclee printing is currently the highest quality standard for printing single or limited edition prints. The term "giclee" (pronounced "ZHEE-CLAY") is a French word meaning "to spray." Giclee prints are created by spraying millions of droplets of ink onto archival fine-art substrates. The word "giclee," as a fine-art term, has come to be associated with prints using fade-resistant archival pigmented inks printed on archival substrates by professional inkjet printers. Giclee prints represent the highest evolution in printmaking technology. The giclee printing process provides better color accuracy and richer depth of color than other means of art reproduction possible.