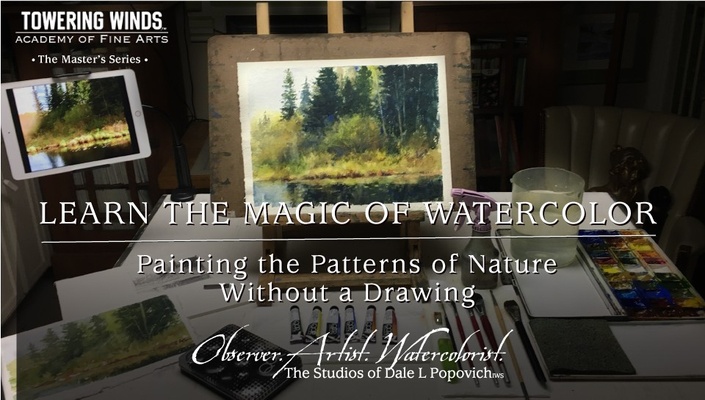 LEARN THE MAGIC OF WATERCOLOR
Painting the Patterns of Nature Without a Drawing
Get the latest course updates and offers
In this Master's Series I will share with you why watercolor is a versatile painting medium for a wide range of expression from representational paintings to loose and fluid abstracts–over 106 minutes of tips, techniques and watercolor teaching in a paint-along format. This course was created for you, the first-time watercolor artist, maybe you haven't picked up a brush in a few years or you are looking for a few tips. Join me as I walk you through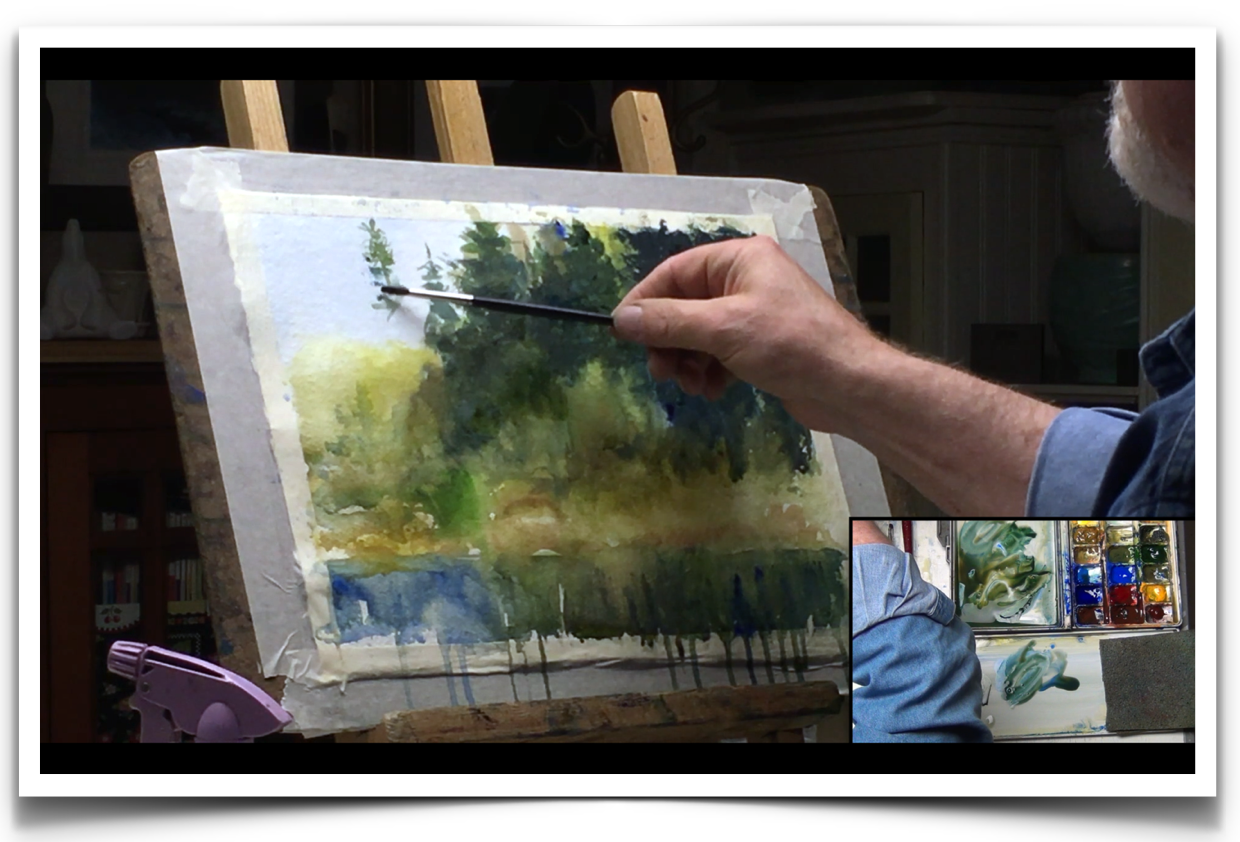 what it takes to create a powerful watercolor all in the comfort of your own studio tm.
Watercolor is a versatile painting medium for a wide range of expressions from representational paintings to loose and fluid abstracts. In this course, I will walk you through how to understand the patterns of light and dark. The purpose of a painting such as this is to work to keep all edges soft.

I will share with you my personal approach to painting abstract patterns in nature without a pencil drawing. This could be scary but it's also very freeing and remember nature is very forgiving.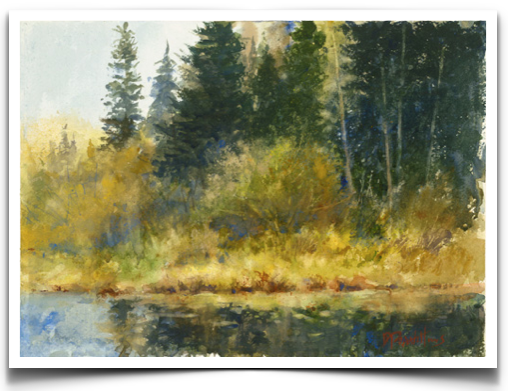 I will show you how to:
• Play with just the large light and dark shapes to create the landscape
• Build-up the layers of watercolor getting the darks darker
• Lifting some lights to create with some freedom a finished painting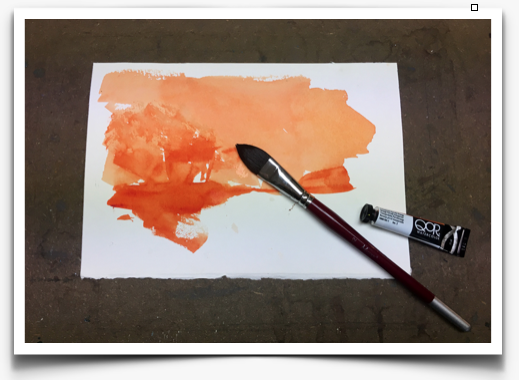 How to work with some new art materials
- This painting was done on Indigo Artpaper
- QoR Watercolor paints
- And my newest purchase of three cat tongue brushes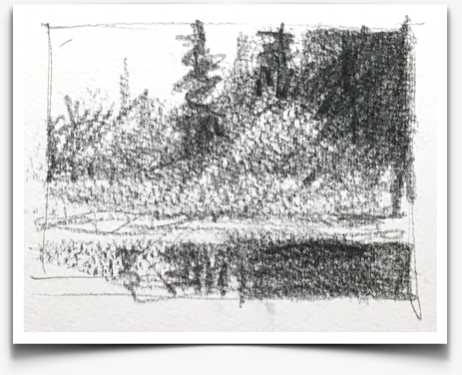 This course is done as a Paint-Along. You will learn: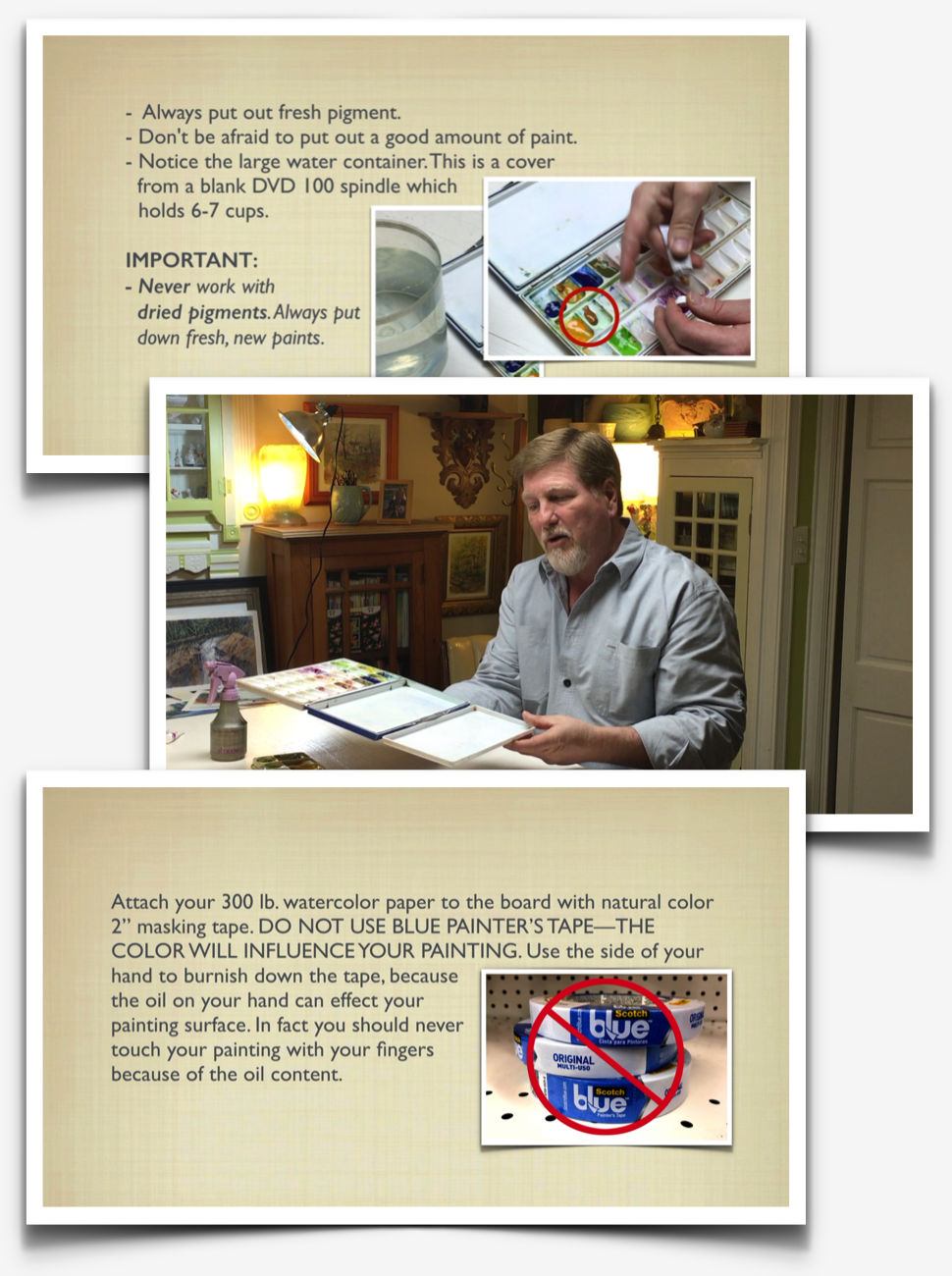 Start thinking about your painting before you put down a single brush stroke
Dale Popovich's personal artist's notes
The importance of a value study and how to do it the right way
Why you should never skip spending 30 minutes creating a color study
Best supplies to get the job done
Step-by-step instruction
Find out how to lay rich, intense color down fearlessly
Techniques of blending color and glazing
Learn how to get the best results
PLUS fun, special effects with the medium
Course includes:
- Popovich's personal supply list in PDF format. If you want to learn more about my recommended supplies visit my
website
. I have blog post and videos talking about my material picks. This page is growing every month.
Printable Photo Reference
Printable Value / Color Studies
3 Paint-Along demonstration video lessons (over an hour)
The video includes a picture-in-picture of paint mixing tray
Printable steps #1 and #2 of paintings
Final printable finished (step #4) painting
Video lessons:

Introduction (4:31 minutes)
Before You Pick-Up Your Brush (15:37 minutes)
This is from the Towering Winds Archives. If you have never painted in watercolor or need a refresher course this short video is for you.
You will learn:
Your work surface
Good lighting
Your workspace or studio
Preparing your watercolor paper including how to easily cut or tear the sheet to the needed size
I will talk about:
Mounting your watercolor paper
Materials
Paints/How much pigments to use
Value/Color Studies (6:37 minutes)
Why you need a value study in pencil and a color rough

Creating a value study for this painting using a graphite stick
The Importance of a color study

THE PAINT-ALONG
STEP #1: The Block-In (7:33 minutes)
STEP # 2: Establishing Secondary Masses (14:29 minutes)
STEP # 3: Final Details (31:15 minutes)
STEP # 4: Step Back, Take a Look and Yes, You can Make Minor Corrections (25:00 minutes)
And
Comments area to post all your watercolor questions.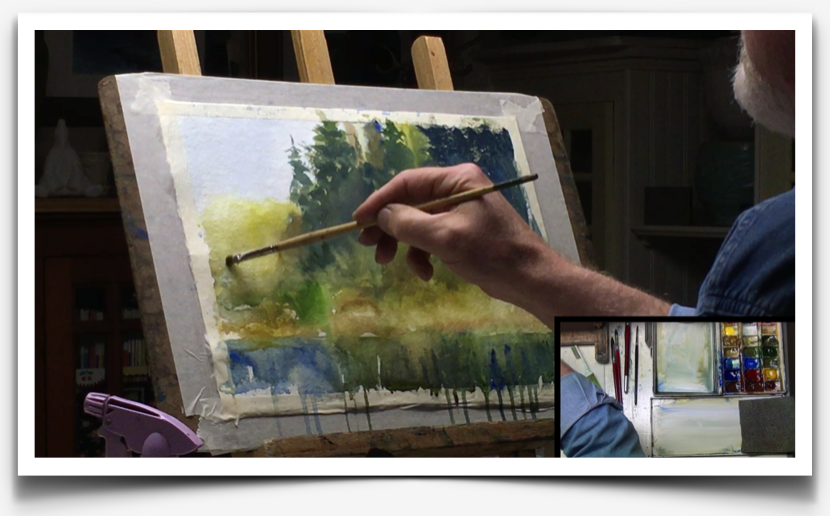 Your Instructor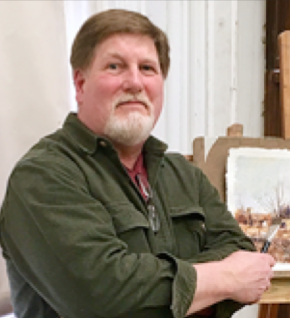 Observer. Artist. Watercolorist. Dale L. Popovich IWS is an award-winning watercolorist and teacher who is passionate about capturing the raw beauty of the American landscape with the fluid stroke of a brush. Talent and training aside, it's Dale's vision that best informs his work. By age 20 he lost 80% of his eyesight. Dale learned to rely on his mind's eye to sustain him. After a nine-hour major brain surgery removing a cyst on his optic nerve, he had to learn how to walk and write again. With vision finally restored, he discovered he could see more clearly than before, efficiently filtering out the visual "noise" around him to focus on a subject's essentials. His paintings began to reflect a certain purity of perception, and this "way of seeing" became the hallmark of his painting.
Spending his childhood summers in the Northwoods of Wisconsin, Dale learned to love its colors, textures, denizens, and moods – developed his holistic approach to watercolor. Today, his paintings celebrate these American landscapes and man's humble efforts to tame it.
Trained at The American Academy of Art in Chicago by Director and President, Irving Shapiro, AWS, Dale was deeply inspired by this great American twentieth-century watercolorist. Dale later taught for 22 years at The American Academy of Art.
Currently, Dale teaches at the prestigious Palette & Chisel Academy of Fine Arts in Chicago. The Palette & Chisel is an association of representational artists, founded in Chicago in 1895. It is the second oldest artist organization in the United States. He also teaches at Mainstreet Art Center in Lake Zurich, IL, and the Elmhurst Art Museum, Elmhurst, IL. Popovich has workshops, demos, and teaches weekly classes in his own studio in Highland. Also, Popovich and his wife launch an online art school, ToweringWindsAcademyOfFineArts.teachable.com. He wanted to share his knowledge with a broader audience. One of his passions is to Teach People to Truly See.
Professionally teaching since 1978, Dale has trained over 2000 students – mentoring many who are now successful, accomplished artists.
Dale and his wife, Marilee live in Northwest Indiana. In addition, they own a log cabin in the Great Northwoods of Wisconsin.
Dale is a member of the Palette & Chisel Academy of Fine Arts, Brown County Art Gallery Artists Association, Indiana Heritage Arts, a signature member of the Illinois Watercolor Society, Watercolor Society of Indiana, and Illiana Artists.
Devoted to both painting and teaching, Dale Popovich's work hangs in collections around the country. You can view more about Dale at DalePopovich.com.
TEACHER'S STATEMENT
I have been an art instructor for over 40+ years and firmly believe that it's important for the artist to know the fundamentals of art, drawing, composition, perspective, and color theory. It is only with this grounding in basics that the artist can give full play to his or her imagination, and depart from reality (either a little or a lot) to create the mood he or she is seeking to convey. After all, it is imagination coupled with skill and craftsmanship that is the key for any artist. Imagination is the child within all of us and cannot be lost.
Course Curriculum
Before You Pick-up Your Brush
Available in days
days after you enroll
Learn the Magic of Watercolor
Available in days
days after you enroll
Frequently Asked Questions
When does the course start and finish?
The course starts now and never ends! It is a completely self-paced online course - you decide when you start and when you finish.
How long do I have access to the course?
How does lifetime access sound? After enrolling, you have unlimited access to this course for as long as you like - across any and all devices you own.
What if I am unhappy with the course?
We would never want you to be unhappy! All of our courses come with a 30-day money back guarantee based on the following factors: You watched all of the training videos for the course. You did all of the course studies included in the course: 1. Value Studies, Color Studies, Final Painting, and Additional assignments where applied. Email the above to
[email protected]
for review. You understand that this is the only circumstance where refunds will be given. Please note that refunds are not giving simply because you changed your mind or decided you don't feel like doing the course anymore. We are serious about our courses and only seek students who are committed to their own success and are willing to put in the work to get there. If you enroll in a course from Towering Winds Academy of Fine Arts, you are agreeing to this limited 30-day refund policy.